Curriculum Vitae: View or download.
Resume: View or download.
Email me: bill@eduawesome.com.
Hi, I'm Bill. I am an ISTE Kay L. Bitter Vision Award winner, ISTE Emerging Leader, Google Certified Innovator, Google Certified Educator Level 1, Apple Teacher, and I'm Leading Edge Certified in Online & Blended Teaching, the Digital Educator, and Professional Developer certifications.
But most importantly, I use technology to shape the experience of each of my students. On this website, I write about how technology is shaping the face of modern education. I believe that technology empowers educators to better individualize teaching and learning, and empowers students to communicate in their own style.
I was a member of California State Superintendent Torlakson's Education Technology Task Force. I've been co-organizer of EdCampSFBAY, EdCampOCLA, and  EdCampLA (collaborative, participant-driven conferences for educators), and a huge supporter of the unconference movement.
I've been interviewed in ISTE's Learning & Leading magazine, THE Journal, Lesson Planet, EduSlam, Techlandia, the Bedley Bros. podcast, and have guest posts on the ISTE Blog, CUE Blog and Kleinspiration.
I've created a lot of content to promote powerful ideas for improving teaching and learning. Here are links to some of my favorite content:
Let's connect.
Here's where to find me online. I share my ideas about improving teaching and learning the most (by far!) on Snapchat. If you're on it, it's time to jump on. I'm still on Twitter, and share amazing things there, but nearly all of the transformative conversations I'm having are on Snapchat: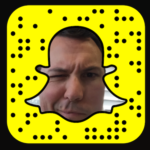 Where I teach
I am the Director of Technology at Hillbrook School, an independent JK-8 school in Los Gatos, CA. We  were recently selected as an Apple Distinguished School for 2015–2017  "as an exemplary learning environment for innovation, leadership, and educational excellence."
I have previously taught elementary music, kindergarten, and second grade in Covina-Valley Unified School District.
I teach at Concordia University Irvine, both online and face-to-face, and Fresno Pacific University leading the Innovative Educator Certificate.
I've taught at University of La Verne in the Child Development Department teaching EDUC448 Math for Young Children and EDU 484 as part of the Transitional Kindergarten Certificate. I've also taught at Azusa Pacific University in the Educational Technology Department. My published courses are EDUC514 Digital Video in the Classroom, EDUC515 Evolving Educational Technologies, EDUC520 Creating Web Media, and EDUC525 Web Design for the Classroom.
Thanks for stopping by. Let's connect on @billselak on Twitter, take look at the conferences I've presented at, or just Google me.